Psssst…It's Expensive to be Disorganized
If you've been reading my monthly articles for a while, you know that each holiday season I usually assemble a list of non-physical gift ideas. I am a big believer, both personally as well as professionally as a Certified Professional Organizer®, in the benefits of giving experiential gifts rather than stuff.
However, given that we are in the midst of a global pandemic this year, and scientists, epidemiologists, and those in the know suggest staying home in order to stay safe, it's harder to give those activities and experiences this year. If you want to gift someone a delayed experience, please check out my suggestions from November 2015, December 2016, November 2017, November 2018, or December 2019.
In place of that annual suggestion list, I want to discuss the cost of disorganization and encourage you to use some down-time during the holidays to get better organized so you can hit the ground running in the new year and save money in the process.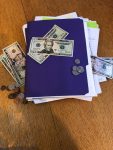 When I teach classes on organizing, I often say that it's expensive to be disorganized. There is a cost associated with clutter, misplaced items, and poor time management. Here are just some of the ways disorganization takes a financial toll.
• Buying the same things over and over again. You know you own it; you just can't find it. As one client lamented to me many years ago, "I know I have a black turtleneck, but honestly it's faster to go to Macy's and buy a new one than digging through the closet to unearth the one that's buried in there."
• Not taking advantage of gift cards. Have you ever had the experience many of my clients have had – finding a gift card in a drawer or a stack of papers, only to discover that it had expired? Or as was recently the case in a client session, finding a gift card from a store that was no longer in business? That's leaving money on the table.
• Incurring penalties or late fees simply because you misplaced the bill and didn't pay it on time, not because there weren't sufficient funds in your checking account.
• Disappointing your child. Your child missed out being enrolled in their first-choice extra-curricular activity because you misplaced the form or missed the deadline to return the form.
• Wasted food. Have you ever had to toss food because it expired or spoiled, and then had to replace it, simply because you didn't have a good inventory system or a good refrigerator organization system?
• Wasted money. Have you ever purchased an item that you meant to return for a refund, but then either missed the return deadline (hello, Amazon), or lost the receipt so you couldn't return it?
• Unnecessarily paying for services. Have you ever purchased an extended warranty with an appliance or electronic purchase, only to be unable to find the necessary paperwork when the item goes on the blink? Without that warranty information, you have to pay for a service call that would have been covered.
• Incurring library fines because you lost or misplaced the book or movie and couldn't return it on time.
• Wasted time. I often find old, expired, uncashed checks in clients' homes. While the checks can often be replaced by calling the issuing party or company to request a replacement check, there is an associated expense in terms of your time.
• Paying more taxes than necessary. There is an opportunity cost associated with missed tax deductions because you couldn't find the associated receipt or donation acknowledgement.
If your goal for 2021 is to get better organized and/or stop wasting money because of disorganization, we can help!.