Organizing For Life's Transitions
We all experience a myriad of transitions throughout our lives – going to college, moving to a new home, getting married, getting divorced, downsizing/rightsizing, death of a loved one, birth of a child or grandchild, becoming an empty-nester, and more.
Each of these transitions, whether happy or sad, brings with it a variety of organizing needs and challenges. Over the last 24 years, I have helped many clients plan weddings; deal with the estate paperwork and dispersing of a deceased loved one's possessions; move/relocate (to a bigger home, smaller home, or assisted living); and deal with the abundance of paperwork and financial organizing needed to get divorce.
That is why, at the beginning of March, I earned a certificate as a Life Transitions Specialist from the National Association of Productivity and Organizing Professionals.
Organizing For Your New Furry Family Member
Last fall, I lost my beloved dog, Riley, after 15 years. That event caused me to transition from being a pet owner to having a very quiet house…not to mention being a lot less active without four dog walks each day in addition to my morning exercise routine.
Three weeks ago, I got two puppies, Moose and Jackson.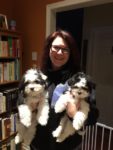 Word of advice – house training in the midst of three (yes, three) Nor'easters is challenging! It also requires a lot of organization:
Keep a designated and very accessible area for coat/hat/gloves. Puppies don't give you a lot of time/warning to get out of the house. If you have a no-shoes household, make sure you keep easy to slip on footwear either next to the door or in the designated coat and hat area.
Create a convenient place to keep litter bags. I opt for my coat pocket. Each time I come back from a dog walk, I replenish my supply so I'm always prepared. This is important when racing out of the house with only a moment's warning.
Establish a grab & go location for reward treats. I am using cut-up bits of chicken as an extra-special reward. I keep a small Tupperware container front and center on the top refrigerator shelf so I can grab it and put it in my pocket on the way out the door.
Organize toys. I have two fabric totes on a shelf in the play area. One houses soft plush toys, the other balls and chew toys. This makes it easy to find what you want without a lot of digging.
Organizing For Your New Human Family Member
Two weeks prior to the arrival of my puppies, my cousin gave birth to a baby boy.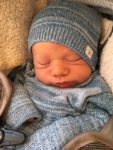 Some of the same organizational needs apply:
Create an organized changing area. Establish a diaper changing area where everything is housed and where the most-used items are accessible and easy to grab quickly. You don't want to have to rummage through drawers trying to find a diaper.
Organizing toys. Organizing toys is just as important for babies and children as it is for dogs. It will be become even more so as the child grows. Making sure you have a home for types of toys will help avoid a meltdown when your child wants to play with something specific.
Organize everything needed for a walk. Keep a fully stocked diaper bag, including snacks and change of clothing, to outerwear, to extra pacifiers and bottles in a designated place near the door or stroller so you never forget something on your way out of the house.
Organize clothes – by type so when you need to grab the third shirt of the morning due to spit up, you don't have to rummage through pants, socks, and pajamas to find it. Keep labeled boxes of clothes to grow into that you may have received from a baby shower or as a baby present so that you know what you have and where to find it when needed. Don't cut the tags off the clothing until your child is ready to wear the item; this way if she grows quickly, you can return/exchange the outfit for a different size since the tags are still attached.
If you need help navigating any of life's transitions, click here.
Feel free to follow the #AdventuresOfMooseAndJackson on Instagram @inorderinc