Don't Leave It For The Kids….Downsizing Tips
Beginning in January 2011, the oldest baby boomers began turning 65; since then, roughly 10,000 boomers have celebrated their 65th birthday every day…this trend will continue for the next 12 years.
What do aging baby boomers have to do with organizing you might ask? Quite a lot as it turns out. As people age, they often look to downsize. That may mean reducing the amount of physical space they have (moving from a house to a townhouse, apartment, or independent living community), or it may mean reducing the volume of stuff they own, or both.
There are currently 75 million baby boomers, a generation that often became the repositories for previous generations of collectors; possessions, furniture, and collectibles were often passed from generation to generation. As a result, boomers are inundated with not only their own stuff, but also the trappings of their parents, grandparents, and other relatives.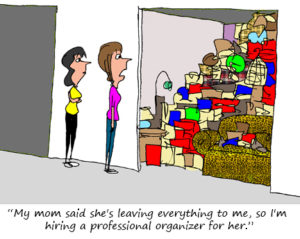 It seems that every magazine or newspaper I pick up lately has at least one article detailing how boomers are looking to get rid of their stuff, yet the Millennials and Gen X-ers don't want it. Two recently published books address this issue.
In The Gentle Art of Swedish Death Cleaning: How to Free Yourself and Your Family from a Lifetime of Clutter, Margareta Magnusson talks about the importance of clearing out items sooner rather than later so that they don't become a burden to your heirs. I often tell clients the best gift they can give their children is getting rid of their stuff themselves, while they are still able.
In No Thanks Mom: The Top Ten Objects Your Kids Do NOT Want (and what to do with them), author and appraiser Elizabeth Stewart details what to do with those special, "saved" items that don't hold value by the Millennials. (In many cases, the options to get these items out of your home are limited to donating them.) As she writes, "your grown children will not agree to be the recipients of your downsizing if it means their upsizing."
Here are 5 Tips For Successful Downsizing
• Make a Plan. The earlier you start, the easier and less overwhelming the task will be. Your plan might be "spend an hour a day" or "spend 5 hours each weekend" going through your stuff, area by area, and deciding what you really need, love, and use and what you can/should dispose of. Doing a little bit, consistently, will keep the project moving along. Even if you don't plan to downsize for 3-5 years, it's not too early to start.

• Find Donation/Sale Resources. Although a great many items (linens, porcelain figurines, silver plated items) have minimal resale value in today's marketplace, they can be donated. Arm yourself with resources to enable you to get the cast-offs out of your home quickly.

• Find a charity that will pick up with their own truck. This minimizes the amount of running around you personally must do.

• Don't second-guess yourself. Once you've decided to part with an item, don't pull it out of the donation box or move it back into your house.

• Preserve memories creatively. There are inventive ways to save sentimental items you may not have room for in your new home. I have created photo albums for clients moving into tiny assisted living apartments, with pictures of their collections. There are companies that will turn t-shirt collections (5Ks, marathons, musical groups, sports teams, etc.) into a themed quilt. A friend's mom created a beautiful sunburst quilt out of her husband's tie collection once he retired. A client had her grandmother's fur coat (which did not fit her) made into a small teddy bear that sits on her dresser. Another client had all the family photos digitized; not only did they take up less space, but now each of her children could have a copy of the family photo albums in a space-saving manner.

Finally, don't hesitate to engage help. If the thought of downsizing seems overwhelming, contact us. We can help reduce the stress, ask the right questions, provide judgment-free support, and help you find resources that will take your stuff.