Living Large in Small Spaces
I live with my boyfriend in a home that is approximately 200 square-feet. Between his bulky music equipment, my endless arts & crafts tools, two wardrobes and only one closet, I'm constantly looking for better ways to arrange our living space so it's more streamlined, so our things are more easily accessible, and most importantly, so it can stay organized. But whether or not you're trying to avoid stepping on a roommate's toes or your own, being organized in a small space is a delicate procedure. It demands some ingenuity and resourcefulness. And, like all organization projects, it requires a tailored view of your individual space.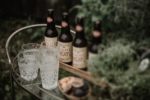 Leave no storage space untouched! Keeping extra items that you don't use every day under your bed is a great way to save space in other places. A long, shallow storage bin on wheels or even an over-the-door shoe organizer lying flat on the ground works well depending on how much space you have. Wall space is also often overlooked as a storage area. However, by adding shelving, hooks, or magnetic wall storage, your possessions can be displayed clearly and have their own places.
Bar carts are very trendy right now, but definitely for good reason. I have three bar carts and they are one of my personal favorite ways to organize. In any small living space, mobile, vertical, self-contained storage is a god-send. Not only do bar carts come in a variety of styles, shapes, colors, and price ranges, they can be placed into any room for extra storage. I like to add small storage bins for extra organization and put "S" hooks or over-the-door hooks on the sides to hang things from!
Organizing products can be expensive. To save money, consider shopping for supplies at dollar stores. While their items may not be the sturdiest or most attractive, dollar stores do sell organizing bins, baskets, and containers that do the trick for specific instances. These can be great for keeping areas like drawers, bar carts, or medicine cabinets organized.
Additionally, thinking outside the box comes in handy a lot when you don't have a lot of space to deal with, or if you're on a budget. Using items you already have in a way other than what they were intended for is a space- and money-saver. For example, have a spare shoe rack? Use it with bins for extra storage shelving under your sink. Cover empty cereal boxes with decorative paper, cut a 3-inch access opening from the top in one of the narrow sides and use for holding magazines, notebooks, or printer paper. Use the empty boxes that your checks were sent in to divide a desk drawer so you can separate office supplies.
(This blog post was written by In Order team member, Hannah Shaber)
We have EXCITING NEWS to share:
In Order, Inc.'s blog post was selected as one of the TOP 100 organizing blog posts! https://blog.feedspot.com/organizing_blogs/