Do You Know What's Scary?
Skeletons and goblins and ghosts, oh my!
If you know me, you probably know that Fall is my favorite season. Each year, I anxiously wait for the magnificence of the changing hues, as the leaves spectacularly evolve from green to red, yellow, and orange, and then finally to brown as they land on the ground.
I love the sound of those brittle leaves crunching underfoot, that pop that affirms fall has arrived. What is less enjoyable is the crunching sound you hear when you step on an abandoned toy or Lego® brick on the floor of your home.
Halloween can be scary. You don't know what costumed ghoul is going to pop out from around the corner, or what creepy masked creature is skulking. But clutter can be equally scary. You don't know what's lurking in that pile. Approaching it can be downright terrifying.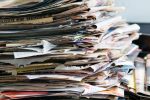 Around Halloween, the scary costumes and spine-chilling decorations may make you scream from fright. But you know what else is hair-raising? It's when that massive pile of papers topples over and spreads all over the counter, leaving you a frightful mess to deal with.
One of my favorite organizing memories, which is totally appropriate to share around Halloween, is the time I spent an afternoon helping a client organize her attic. Luckily, I had spent most of the day sitting on the floor, or crouching down, and had never stood up or looked up. At the end of our session, my client told me she wanted to leave the door to the attic open so the room could air out a bit and she could get rid of the musty smell. As it turned out, right above where we had been working, unbeknownst to us, were hundreds of sleeping bats. In case you don't know, bats are nocturnal.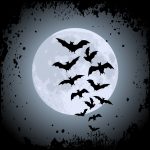 That evening, as it got dark outside, her house filled with bats! In fact, there were so many bats that the exterminator started referring to her house as the "Bat Cave" and said he had never seen so many bats in a residential setting. I remain thankful that I never looked up while we were working!
A quick poll among some of my friends and clients identified the three scariest things in their home to organize:
• Large stacks of paperwork
• Closets that are on overflow
• And, of course, the (unfinished) basement
If the thought of tackling the clutter alone is scary, reach out! We can help.
And, if you just want help organizing your candy, we are also happy to help; although we don't guarantee there will be the same number of pieces left when we leave!
Wishing you a Happy, Organized Halloween. Speaking of scary, remember to VOTE!