When the Hurricane Comes, the Answer's Not Blowin' in the Wind!
As a child, I was a Girl Scout. As yummy as those Thin Mints are, it's not about the cookies. The Girl Scout motto is "Be Prepared." The importance of this was emphasized by my troop leaders. According to the Girl Scout handbook, a "Girl Scout is ready to help out wherever she is needed. Willingness to serve is not enough; you must know how to do the job well, even in an emergency."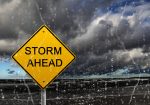 Last week, from Tuesday through Saturday, my home was without power, following a brief, but intense, windstorm courtesy of Hurricane Isaias. For five days, we were without lights, Internet, phones, air conditioning, or an ability to cook food.
In the past, I've written about being prepared for an unexpected medical emergency and about the importance of having your vital documents organized so you can be prepared for an unexpected death. Thankfully, this situation, although quite frustrating, was not as dire as either of those events.
It also helps that my home is organized, so we were able to access what we needed in a matter of minutes. I want to share some tips so that when the next natural disaster strikes, you are prepared.
First, create one designated place to keep emergency supplies.
Ideally it should be someplace easy to access safely in the dark. Supplies to keep on hand include things like flashlights, lanterns, solar powered lights, batteries, unscented candles, and matches.
Second, keep non-perishable foods that don't require cooking on hand.
While some stoves will work when the power is out, many that require an electronic start will not. Sadly, mine falls into that category. Even using an Aim & Flame multi-purpose lighter didn't help; believe me, I tried! Examples of foods to have on hand include canned tuna fish, peanut butter, canned pasta (assuming you don't mind it at room temperature). Be sure to check expiration dates on these items every 6 months or so to be sure they are fresh. If you have pets, make sure you have an adequate supply of food on hand for your furry family members. Be sure to have an adequate supply of bottled water on hand in the event the water is not potable.
Backup chargers for devices are important.
Having a portable charger or charging station can be key for keeping your phone and various devices juiced. My town offered charging stations at some municipal buildings but having the ability to re-charge at home is a nice convenience. At one point, when the interior of my home reached a muggy 85-degrees, I sat in my air-conditioned car for half an hour and recharged my phone at the same time. As soon a you hear about a pending storm, be sure to charge your backup chargers so you'll be ready.
Stock special "emergency only" things to occupy your family when TV, Netflix, PlayStation, and other devices aren't options. You may want a "secret stash" of fun toys, coloring books and markers if you have young kids; crossword puzzle and Sudoku books or a deck of cards might be fun for teens. Board games that are appropriate for all family members, and for the number of family members, can be a fun way to pass the time. Personally, I used the time to read a large stack of books that I hadn't gotten to. Although I couldn't use my phone for email, texts, or phone calls, since the local cell towers were affected, I was able to listen to music to pass the time.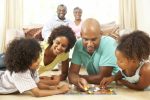 Create an Emergency Plan in the event you need to evacuate. Make sure everyone in the family knows where the meeting spot is and how to get there safely.
Keep Go Bags ready in case you need to evacuate.
Some clients keep these in a closet, ready to grab, while others keep them in their cars (although extreme temperature variations can be problematic for some of the contents.) Some of the items in your Go Bag should include first aid supplies, a flashlight, extra batteries, matches (in a waterproof container), plastic sheeting, a whistle, and meds – including an Epi-pen if someone has a severe allergy to food or bees. Other items to pack include a blanket, refillable water bottle, hat, jacket, gloves, trail mix/protein bars/freeze dried food. Be sure to check expiration dates a few times a year on the food, medications, and batteries. If you have a pet who will be evacuating with you, be sure you have supplies for them as well.
Stay safe. Stay organized.