Riding the Emotional Roller-coaster: Staying Sane & Organized While Sheltering-in-place
I saw a sweatshirt the other day that read "I don't meet the minimum height requirement to ride your emotional roller-coaster" and it made me chuckle. How many of you have been on an emotional roller-coaster since COVID-19 began, or at least since we were mandated to stay home? I know I have.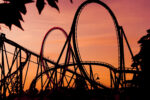 My emotional extremes have ranged from tears of anger over friends and clients dealing with/dying from this insidious virus, to frustration over lost business, to sadness over planned events that have to be missed, to unadulterated joy at having so much time to spend with my puppies and laughing at their antics, to feeling like I should be tackling all those things I never have time for, to feeling highly focused and energized, to feeling like I want to stay in bed with the covers over my head, to tears of frustration…..a true emotional roller-coaster. As a Certified Professional Organizer, I am not used to living in chaos. But the reality is, right now, we are all living in some sort of chaos.
Someone recently commented to me that if we knew when this pandemic was going to end, we would be able to tolerate it better. "Only three more weeks; only six more days to go…." When we have a deadline or an endpoint, we can containerize time. Deadlines often force us to be more focused and productive. When it's open ended and amorphous, it is much more challenging.
Over the last few weeks, many people have reached out to me asking how to be productive while home, or how to get better organized, or how to organize a particular space. My piece of advice is to start small and be realistic. Allow yourself to "feel all the feels" of your own emotional roller=coaster. Recognize what won't get done and focus on the one thing you can accomplish on any given day.
If you have a room you want to organize, start with a manageable bite-sized chunk rather than the entire room. In a kitchen, start with the junk drawer, and then move on to the next cabinet or drawer. In your home office, weed through the papers in one drawer of the file cabinet, or perhaps just the first 10 hanging files. Or start even smaller with the pencil cup and get rid of the pens that are out of ink and the highlighters that don't work; then evaluate how many letter openers and scissors you need. In a closet, start with one shelf or one hanging rod.
Ask yourself questions: Do I need this? Do I use it? Do I still like it? Does it fit/fit my current lifestyle? Grab a few boxes or large bags to hold items to be donated. You may not be able to drop them off, as many charities and donation centers are currently closed, but you can move the boxes or bags into your garage or basement until the pandemic is over.
Here are some options that, as of writing, were still accepting donations:
1. Give Back Box; not only can you get the items to give away out of your house, you can simultaneously get rid of one of the many cardboard boxes that have probably been arriving at your home on a regular basis.
2. If you have shoes to donate, Soles for Souls is accepting donations during COVID-19. New and gently worn shoes are distributed throughout the U.S. and the world (through Zappos For Good during COVID-19). Pack shoes in a box, print a free shipping label and drop off at a UPS store or arrange for a porch pick-up. Click here for more info.
3. Thredup has a donation program called Clean Up for Social Good. They send you a mailing envelope that you fill with unwanted clothing items and mail it back. They historically give $5 to the charity of your choice, but now, during Covid-19, they are donating $15 to Feeding America. You can contact them for a Clean-out kit.
4. If you have books you no longer want, you can find a Prison Book Program in your state.
5. There are also several junk removal companies that are doing removals (contactless pickup — maintaining 6-foot distance, picking up from garage or outside home, wearing protective gear, contactless payments) and then warehousing items until charities reopen.
Offering safe, porch pick-up of items on neighborhood sites/virtual garage sale sites is still permitted in some areas.
My crystal ball is on the blink; unfortunately, I can't tell you how long we will be sequestered at home. What I can tell you is do your best to end your day on a positive note. Before you go to bed, here are three things to think about. First, think of or jot down three things you accomplished today. It doesn't have to be a monumental event; it can be as simple as "sat down and had a leisurely cup of coffee." Second, think or jot down three things you feel grateful for that happened today. Again, it can be small; "grateful that the sun was shining, and I was able to walk around my neighborhood." Third, identify the three things you hope to accomplish tomorrow. Keep your goals modest and realistic. We will get through this!